Client Testimonials
Our clients speak out!
Every year our client list grows with a greater number of satisfied customers. We are proud to share some of their kind words and praises for our company, employees and services.
Please feel free to call our office for more references on any type of service for which you are looking.
The University of Utah
Hi Angela,
I just finished reading and scoring all of the slides. The quality was uniformly outstanding, and the position in the joint was optimal for assessing pathology.
It was also very nice to have multiple sections to study in making an assignment. Thank you very much for giving the project your personal attention and doing such a superior job. These are among the best sections that we have had over the past 18 or so years of Lyme disease research.
Also, we have 3 small experiments of tissues that we will put together and send to you sometime after Thanksgiving.
Thank you for your extra-effort!

Janis J. Weis, Ph.D.
Professor of Pathology
15 North Medical Drive
#2100 Salt Lake City, UT 84112-5650
National Institutes of Health
Great job Shana!
Overall output, timeliness and quality was impeccable. I will continue to use the service. I especially appreciated your concern for my project.

Suresh Poosala, D.V.M., M.S., Ph.D.,
Staff Scientist
Chief, Comparative Medicine Section and Animal Program Director
Harvey Mudd College
AML labs was very professional and quick to return our samples. In addition, they worked extensively with me via email to customize their services to my particular needs. They even re-ran some of my samples at no cost because they felt that they could improve the quality! I was very impressed.

Liz Orwin
Harvey Mudd College
Claremont, California
Latest Specials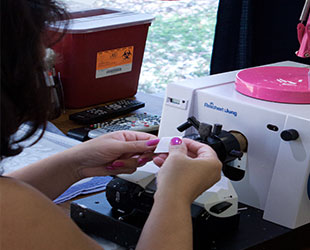 Free Trial Offer!
We would love for you to give us the opportunity to show you the quality of our work. Therefore, we offer a free trial of three samples with three slides on each sample: (1) H&E and two (2) unstained slides. Frozen and Special Stain not included.
Available for Trial Offer or 10% New Customer Discount Offer. This offer is not available on Rush Orders.
AML Labs will not be responsible for shipping charges. You must provide a Shipping Label or Account Number.

Call now
(877) 219-5183