Fee Schedule
Cost of Services Guide
AML Laboratories, Inc is proud to offer competitive pricing on Histology services for our current and potential customers. Please browse below for our most popular services and fees.
If you have any questions about any of our services below or a service that is not listed, please email us or call our office for more information.
Standard Services

Special Services

Gross
$2.25


per specimen

Double Ribbons
$1.25


per additional slide

Process
$3.50


per cassette

Grossing to one H&E Slide
$13.75


per slide

Embed
$2.75


per block

Levels
$1.25


per slide

Cut at Embedding
1.00


per block

H&E Stain
5.25


per block

Unstained Plus Slide
3.50


per slide




Example of Single Ribbon

OCT Mounting
2.00


per slide

Unstained Frozen Slide
7.00


2 sections per slide




Example of Double Ribbons

H&E Frozen Slide
9.50


2 sections per slide
Special Stains

Level 1
Level 2

Alcian Blue
Colloidal Iron
Congo Red
Giemsa
Kinyoun's AFB
Luxol Fast Blue
Mayer's Mucicarmine
PAS w/o digestion
Saffron O
Toluidine Blue

$11.00


per slide

Gram
Masson's Trichrome
Oil Red O
PAS/AB
PAS w/digestion
Prussian Blue
Verhoeff's

$14.50


per slide

Level 3

Sevier-Munger
Grocott's Methenamine Silver (GMS)
Von Kossa's

$17.50


per slide
Rush Service Available:
We can provide a 3 day rush turnaround service for an additional fee. A total bill of $500.00 or less is an automatic $150 fee. For orders over $501.00, a 25% fee will be charged.
Latest Specials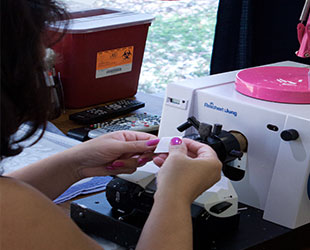 Free Trial Offer!
We would love for you to give us the opportunity to show you the quality of our work. Therefore, we offer a free trial of three samples with three slides on each sample: (1) H&E and two (2) unstained slides. Frozen and Special Stain not included.
Available for Trial Offer or 10% New Customer Discount Offer. This offer is not available on Rush Orders.
AML Labs will not be responsible for shipping charges. You must provide a Shipping Label or Account Number.

Call now
(877) 219-5183