Headquarters
AML Laboratories,Inc.
4405 Sartillo Road
St. Augustine, FL 32095 USA
Phones
Local: (904) 484-7552
Toll free: +1 (877) 219-5183
Fax: +1 (877) 219-5184
Angela Cell: (443) 255-1724
Email
Support & Inquiries: service@amllabs.com
Hours of Operation
Monday - Friday: 7:30am - 3:30pm EST
Latest Specials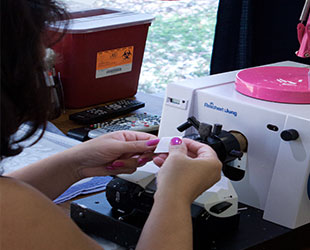 Free Trial Offer!
We would love for you to give us the opportunity to show you the quality of our work. Therefore, we offer a free trial of three samples with three slides on each sample: (1) H&E and two (2) unstained slides. Frozen and Special Stain not included.
Available for Trial Offer or 10% New Customer Discount Offer. This offer is not available on Rush Orders.
AML Labs will not be responsible for shipping charges. You must provide a Shipping Label or Account Number.

Call now
(877) 219-5183