Frequently Asked Questions
Do you have a question?
Below we have listed some frequently asked questions presented to us from our clients.
If you have a question about a service or a topic that is not listed, please email us or call our office for more information.
---
Is 10% formalin safe to ship?

Yes, the percentage of formaldehyde is below the acceptable limit. There is no need for any special handling.

How should I pack my specimens?

Specimens should be packed in a plastic screw top container. It is also a good idea to place these containers inside a sealed plastic bag. Also please include absorbent material inside the package in case of a leak. Make sure to include separately a completed Work Request Form. If the form is enclosed with specimens the form often times is received wet.

What information do I need to provide?

Please provide as much information as possible. Any diagrams, drawing or special instructions are very helpful. It is also MANDATORY to provide us with a direct phone number, email address, and most importantly a list of samples. It is our policy not to proceed with a project unless we have a list of samples. You will receive a confirmation email when we receive your specimens. If for some reason you do not receive this email, please contact us immediately. We will also send you an email when the project is being returned.

Is there a fee for multiple sections on a slide?

There is no extra charge for multiple sections. Normally one section is placed on a slide but if you need more, let us know under "Special Instructions" on the Work Request Form. There is a fee of $.75 for every additional section over two for frozen sections.

Do you cut frozen section slides?

Yes we do, however, you need to contact us ahead of time so we know when to expect them. DO NOT SHIP FROZEN SAMPLES ON A FRIDAY OR A HOLIDAY. Frozen sections need to be shipped Priority Overnight on dry ice. There is a dry ice charge of $25 when return shipping

Do you perform IHC?

We have partnered with NDBbio, LLC for IHC services.

Do you perform Immunoflourence?

No, not at this time.
Latest Specials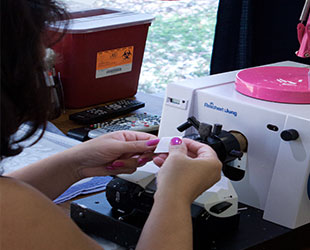 Free Trial Offer!
We would love for you to give us the opportunity to show you the quality of our work. Therefore, we offer a free trial of three samples with three slides on each sample: (1) H&E and two (2) unstained slides. Frozen and Special Stain not included.
Available for Trial Offer or 10% New Customer Discount Offer. This offer is not available on Rush Orders.
AML Labs will not be responsible for shipping charges. You must provide a Shipping Label or Account Number.

Call now
(877) 219-5183