Our Clients
Every year our client list grows into a greater number of satisfied customers. We are proud to have completed jobs for the following companies.
Please feel free to call our office for references on any type of service for which you are looking.
ATCC Corporation

- Manassas, VA

Alkermes Corporation

- Cambridge, MA

Biomodels

- Watertown, MA

Cleveland Clinic

- Cleveland, OH

Columbia University

- New York, NY

Cotton Fibre Research

- Canberra, Australia

Cytograft Tissue Engineering, Inc

- Novato, CA

Duke University

- Durham, NC

Emory University

- Atlanta, GA

Harvey Mudd College

- Claremont, CA

Howard Hughes Medical Center

- Chevy Chase, MD

Howard University

- Washington, DC

Indiana Autopsy

- Indianapolis, IN

Johns Hopkins University

- Baltimore, MD

Kennedy Krieger Institute

- Baltimore, MD

Merck & Co., Inc.

- Worldwide

Memorial University of Newfoundland

- Newfoundland, Canada

Miami School of Medicine

- Miami, FL

National Institutes of Health

- Bethesda, MD

New York University

- New York, NY

North Shore Research Center

- Manhasset, NY

Pfizer Corporation

- Chesterfield, MO

Shriner Hospital

- Tampa, FL

University of Alabama

- Birmingham, AL

University of Illinois

- Chicago, IL

University of Kentucky

- Lexington, KY

University of Maryland College Park

- College Park, MD

Washington University

- St. Louis, MO

Wayne State University

- Detroit, MI
Latest Specials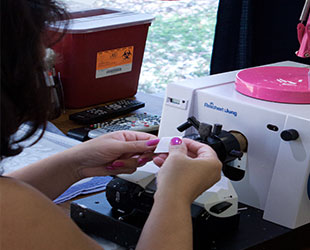 Free Trial Offer!
We would love for you to give us the opportunity to show you the quality of our work. Therefore, we offer a free trial of three samples with three slides on each sample: (1) H&E and two (2) unstained slides. Frozen and Special Stain not included.
Available for Trial Offer or 10% New Customer Discount Offer. This offer is not available on Rush Orders.
AML Labs will not be responsible for shipping charges. You must provide a Shipping Label or Account Number.

Call now
(877) 219-5183