Our Services
Grossing
Grossing is the process by which a tissue sample is removed from its fixative and placed in a labeled cassette. Each piece of tissue has a designated cassette for individual identification.

Decalcification
Decalcification is the process by which calcium is removed from bone, or other hard tissues (at the technician's discretion), before processing.

Processing
Processing involves the dehydration, clearing, and infiltration of paraffin to prepare the tissues for embedding.
Embedding
Embedding involves enclosing the tissue in solidified paraffin wax, which provides the block to be prepared for microtomy.
Microtomy
Microtomy is the process by which paraffin tissue blocks are cut into thin sections using a microtome and placed on slides for further examination under a microscope. The common thickness for sections is 5 microns.
Special Stains
Level 1
Alcian Blue: demonstrates acid mucopolysaccharides
Colloidal Iron: demonstrates carboxylated and sulfated mucopolysaccarides and glycoproteins in tissue
Congo Red: demonstrates amyloid deposits in tissue
Giemsa: demonstrates bacteria and rickettsias in tissue
Kinyoun's AFB: demonstrates the presence of acid fast mycobacteria in tissue
Luxol Fast Blue: demonstrates myelin and Nissl substance in tissue
Mayer's Mucicarmine: staining of "epithelial" mucin in tissue
PAS w/o digestion: demonstrates polysaccharides, neutral mucosubstances & basement membranes
Saffron O: demonstrates the detection of cartilage
Toluidine Blue: demonstrates the presence of mast cells in tissue
Level 2
Gram: demonstrates gram-negative and gram-positive in tissue
Masson's Trichrome: demonstrates the differentiation between collagen and smooth muscle in tumors and identify increases in collagenous tissue in diseases
Oil Red O: demonstrates neutral lipids in frozen tissue section; can only be performed on frozen tissue sections
PAS /AB: used to differentiate between neutral & acidic mucosubstances
PAS w/digestion: demonstrates the presence of glycogen in tissue
Prussian Blue: demonstrates the detection of ferric iron in tissue
Verhoeff's: demonstrates pathologic changes in elastic fibers of tissue
Level 3
Sevier-Munger: demonstrates nerve fibers and the presence of neurofibrillary tangles and senile plaques in Alzheimer's disease
Grocott's Methenamine Silver (GMS): demonstrates the presence of fungal organisms and pneumocystis
Von Kossa's: demonstrates the presence of calcium in tissue
DNA Slide Preparation
There is an additional charge for handling DNA projects, a new blade is used for each block to eliminate any cross contamination. The charge is $3.00 per blade.
Frozen Sections
We accept frozen tissue samples mounted in OCT and properly labeled with the specimen identification.
It is imperative that the tissues are received in the proper molds. If the tissue mold is not correct and does not fit our machine, we will return the samples to the Principal Investigator. If you have any questions concerning the mold, please call us in advance.
We will place two sections on one slide and there is a fee of $.75 for every additional section. The tissue samples are required to ship priority overnight in dry ice with proper dry ice handling procedure. Be sure to provide enough dry ice to last 48 hours; this is approximately 10 pounds of dry ice. DO NOT SHIP FROZEN SAMPLES ON A FRIDAY OR A HOLIDAY. Frozen sections need to be shipped Priority Overnight on dry ice. There is a dry ice charge of $25 when return shipping.
Latest Specials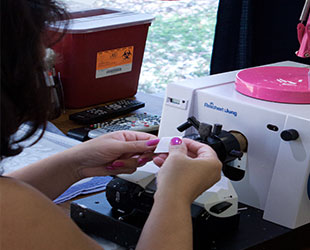 Free Trial Offer!
We would love for you to give us the opportunity to show you the quality of our work. Therefore, we offer a free trial of three samples with three slides on each sample: (1) H&E and two (2) unstained slides. Frozen and Special Stain not included.
Available for Trial Offer or 10% New Customer Discount Offer. This offer is not available on Rush Orders.
AML Labs will not be responsible for shipping charges. You must provide a Shipping Label or Account Number.

Call now
(877) 219-5183