Histology Services
AML Laboratories is a certified woman owned histology laboratory. We provide national and international histology services using our expertise in processing human, animal, and plant tissues.
Our mission at AML Labs is to take the time to learn about each of our clients' objectives and tailor our work to their needs.
Our goal is simply to be the "best of the best" in our work, in our customer service, and customer satisfaction.
New Customer Discount:
We want your business! We are offering, as an incentive, 10% off of your entire first order for all of our new customers. Please mention this discount on your Work Request Form.

Referral Discount:
Are you happy with us? We want you to be excited about the work you receive at AML Labs. So excited that you want to share our laboratory service with your colleagues.
You will receive 20% off your next order submitted after we receive an order from someone you referred to AML Labs. Please make sure the New Customer references your name on their Work Request Form.

Latest Specials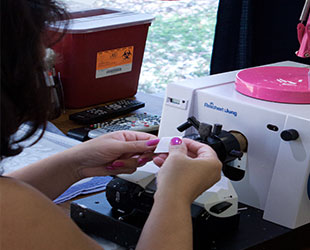 Free Trial Offer!
We would love for you to give us the opportunity to show you the quality of our work. Therefore, we offer a free trial of three samples with three slides on each sample: (1) H&E and two (2) unstained slides. Frozen and Special Stain not included.
Available for Trial Offer or 10% New Customer Discount Offer. This offer is not available on Rush Orders.
AML Labs will not be responsible for shipping charges. You must provide a Shipping Label or Account Number.

Call now
(877) 219-5183
Our Staff
Angela M. Amatruda, HT (ASCP)

Angie has over 18 years experience in the field of Histology. Her career began at one of the world's most recognized research facilities, Johns Hopkins University, as an Histology trainee moving to Johns Hopkins Hospital Pathology/Surgical Laboratory in 1991.

Enthusiasm led Angie to North Arundel Hospital performing immunoperoxidase and special stains while continuing her growth and broadening her responsibilities as a trainer and director of workflow at Johns Hopkins. In 1994 she became a Staff Supervisor for the Pathology/Reference Laboratory. The Center for Surgical Dermatology also requested Angie to join their staff to perform frozen sections for Mohs Surgery.

In 1996 Angie first offered Histological Services under the name of AML Laboratories, Inc. fulfilling a goal as an independent business woman. The reputation of AML has attracted not only researchers from around the globe, but a bright, highly qualified staff to join AML as it continues to grow as a leading supporter in the research.

Shana L. Lee

Shana began her working career at St. Agnes hospital as a lab assistant in the Outreach Clinical Laboratory. She was responsible for accessioning patients into the computer system and working directly with patients, doctors and the hospital administration. It was here; Shana learned the value of quality and precision necessary to give the correct patient results.

Shana was asked to apply for the Histology training program because of her attention to detail. Shana has started and excelled in the training program at St. Agnes and joined AML Labs in 2006. At AML labs, Shana has had the opportunity to expand her skills and work in research with animal tissues. She is a valued member of the AML team.

Russell Roshchin

Russell moved to Maryland in 2013 to teach Chemistry and Biology at a private school. Angela's son, Jordan, was a student in Russell's chemistry class. In April 2014, Jordan introduced him to his mom and Russell started as a part-time worker at AML Labs, coming in after teaching to perform any assigned duties at the lab. Needless to say, Russell was glad to get his foot in the door and thankful for the opportunity. He was hired as a full-time lab assistant in May 2015. Having already been trained in the basics at the lab, Russell was able to focus on learning the technical aspects of grossing, embedding and microtomy. He also provides assistance to Kayla in administrative roles, including customer service and quality control.

Russell holds a bachelor's degree in Biology and is excited to garner such valuable experience in his field that serving at AML provides. He is excited about his future at AML and is determined to provide the best possible results for AML's customers.

Danielle Drouillard

Danielle has been blessed to be introduced into histology by her friend and cousin, Angela Amatruda.

Angela first trained her to cut frozen tissue for a Mohs Surgeon. She then moved to St. Agnes Hospital and learned all aspects of histology. She received her HT ASCP certification in 2002 and has enjoyed the field ever since. She has worked part time for AML through the years but is very excited to be a full-time member of such an exciting, growing lab with wonderful co-workers.

Devin LeBrun

Devin is the son of Angela Amatruda, the owner of AML Labs. He began working as a part time assistant for AML in 2007 but has been growing up assisting his mom.

Since the start of his part time employment, he has become a vital member of the AML team. Devin assists the lab in many ways from administrative assistance to tech assistance. He has become the muscle behind the scenes, aiding in tasks ranging from printing slides and cassettes to embedding and administrative work, such as invoicing, receiving and packaging. His, steady, fast-paced, work ethic keeps the lab running at optimal capacity.

Devin is proud to have been a part of the growth of AML Labs since the very beginning and looks forward to seeing further growth and success of the lab.