Histology Services
AML Laboratories is a certified woman owned histology laboratory. We provide national and international histology services using our expertise in processing human, animal, and plant tissues.
Our mission at AML Labs is to take the time to learn about each of our clients' objectives and tailor our work to their needs.
Our goal is simply to be the "best of the best" in our work, in our customer service, and customer satisfaction.
New Customer Discount:
We want your business! We are offering, as an incentive, 10% off of your entire first order for all of our new customers. Please mention this discount on your Work Request Form.

Referral Discount:
Are you happy with us? We want you to be excited about the work you receive at AML Labs. So excited that you want to share our laboratory service with your colleagues.
You will receive 20% off your next order submitted after we receive an order from someone you referred to AML Labs. Please make sure the New Customer references your name on their Work Request Form.

Latest Specials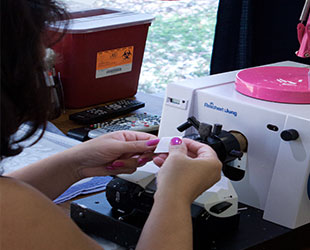 Free Trial Offer!
We would love for you to give us the opportunity to show you the quality of our work. Therefore, we offer a free trial of three samples with three slides on each sample: (1) H&E and two (2) unstained slides. Frozen and Special Stain not included.
Available for Trial Offer or 10% New Customer Discount Offer. This offer is not available on Rush Orders.
AML Labs will not be responsible for shipping charges. You must provide a Shipping Label or Account Number.

Call now
(877) 219-5183